Sunday, April 06, 2014
Reflections on Outdoor Christian Education through Fair Glen!
For over 25 years, grade 6 students from Calvin Christian School have had the privilege of going on a 3 day, 2 night excursion to Fair Glen, near Beaverton, Ontario. Fair Glen is a youth camp that offers a program centered around the idea of Outdoor Christian Education to its patrons. For the last 11 years, I have had the privilege of being involved with this trip.
Every year I am asked if I still enjoy going to Fair Glen. After all, we often do the sa
me types of activities, eat the same types of food, endure the loss of quality sleep, not to mention the cold! The first few years these were some of the things that made this trip so excellent. But for the last several years, what I have found that keeps me so excited for this trip is in seeing relationships build.
The real proof that this excursion is successful in Outdoor Christian Education is in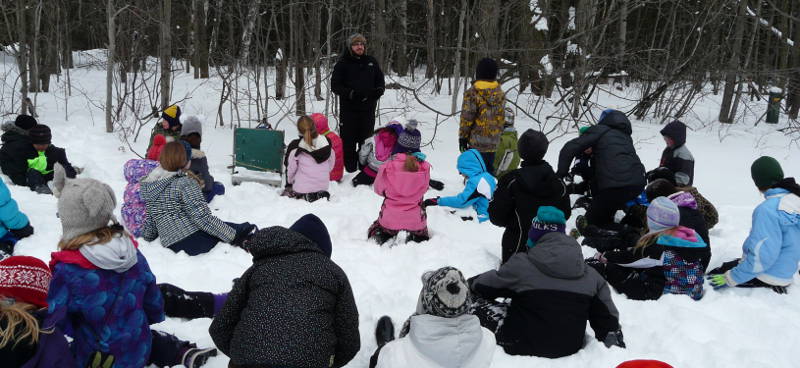 hearing about the success stories, in hearing the exclamation that God is awesome! In seeing a relationship with God grow closer. Looking up into the heavens at night and seeing God in the stars, looking out around the grounds and seeing God in the snow, sitting
back in the dining hall and hearing God in the laughter. I think these are the more foundational elements of Outdoor Christian Education, and the activities are just a means to an end. Outdoor Christian Education at Fair Glen uses the activities to stretch us, teach us, shape us, and lead us into growing closer to Christ-like without ever realizing that we are being stretched, taught, shaped, and led!
Allow me to explain: Take the high ropes! How many of us can remember climbing up the ladder, and then letting fear begin to get the better of us? We want to back down, but then we hear the v
oices of those around us, those we know, friends, classmates, parents, teachers all encouraging us to take just one more step, just put one foot in front of the other. And we do! We go further than we tho
ught we could, whether that be to the top of the ladder, or all the way across the high rope. Who knew we could conquer our fears a little easier when we are surrounded by those we know. It's amazing to hear encouraging comments, to know that the words being spoken are genuine! To see the smile of relief when it is over, that "I went further than I thought I could", to see the high fives, and to hear the words "Thanks, guys, for getting me through that", are what make the experiences so worth while attending.
Cross country skiing: an activity that at first glance appears simple enough, until you get into the shoes, into the skis, and realize that there is a whole lot more than just pushing yourself throu
gh the snow. Now you need to listen to clear instructions, you need to retrain your body from what it wants to do so that it will do what it needs to do. You are led into an area you have never been before. You see, experience, and learn new things. When you are back where you started, you comment to a friend that that was a lot of fun, can't wait for the next thing. You are happy and excited for what you were able to do because it was new, and you were able to partake in the activity with somebody else.
These are just two of the many different activities we enjoy while at Fair Glen. There are several others which all have the same effect. Once our time at Fair Glen is complete, we leave having built memories with classmates, as well as strengthened our relationships with eachother and with God. I see God at work the most within the class through these relationships, and when I do, I think of all the work that went into planning and organizing, and know it was worth it!